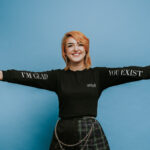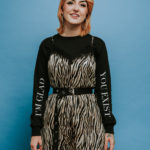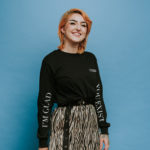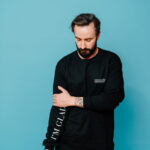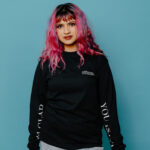 Shirts
"I'm Glad You Exist" Long Sleeve
£20.00
Description
Description
Black long sleeve t-shirt with sleeve prints, breast print & custom nape tag. Prints are on the inside of the sleeves, so you can read the full message if someone spreads their arms to give you a hug. Possibly the lamest/coolest/cutest thing we've ever made.
Design by Heads Above The Waves
Inspired by you, cuz we're glad you exist!
Every penny from your order goes towards providing hope and help for young people struggling with self-harm and depression.
Check out the sort of stuff that's made possible by merch sales.
Size Guide
| Size | a (cm) | b (cm) |
| --- | --- | --- |
| S | 46 | 71 |
| M | 51 | 74 |
| L | 56 | 76 |
| XL | 61 | 79 |
| 2XL | 66 | 81 |
When you buy our merch, you help us to…

Continue to develop and run our workshops

Produce, print and distribute literature

Create and publish online content