Hello! What's your name, pronouns and where are you from?
Hi, my name is Ludivine (she/her) and I'm from Nantes, west coast of France.
What drew you to the graphic design world? [brilliant graphic design related joke, there]
(Nice one) Honestly I don't know. I always hated school (too distracted by my own thought). Like I was the girl sat in the back drawing and dreaming through the window. I'm easily bored so I think it was just kinda obvious for me to do something creative. After high school, I moved in Paris and I've graduated from a Graphic Design's Master in 2018. Then I started to be self-employed. I'm free to work from all around the world and I can manage my own time of work.
Tell us a little about the design for the A Song Can Save Your Life Tee'
One year ago, I was looking for my own drawing style and when Holding Absence's self-titled album came out, I felt inspired. It was a good start for me to work on something more personal. This one was inspired by the song 'Your Love (Has Ruined My Life)'. If you don't know, the song is about losing someone you love and how hard is it to live without this person.
So the idea was to take the cassette tape as a metaphor of memories. By listening to this tape you can relive this story again and again, and remember this love that consumes you. But you can also put it away or destroy it, in hope to forget everything. At the end all the cassettes are a physical representation for every chapter of your life. The good and the bad, make the person you are today!
If you like music, you might have some songs related to a memory or a person and you know the power it can have on your mind. For no reason some songs make you feel something different and unique.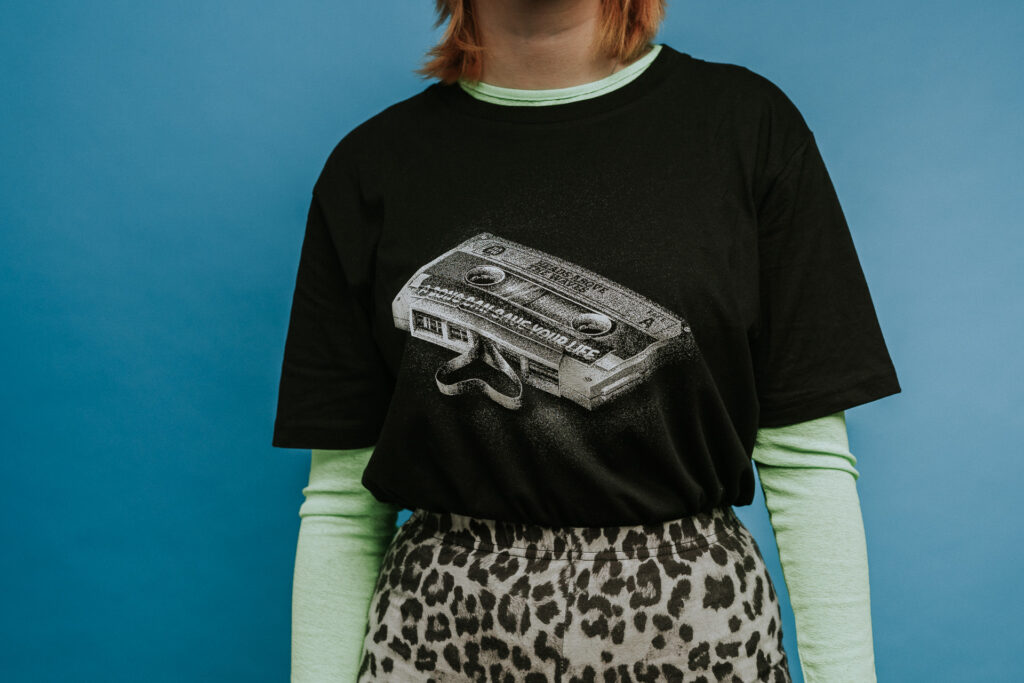 The final product! 'A Song Can Save Your Life' Tee.
What inspires you most?
I can be inspired by everything at any time. I don't have one thing in particular. Like it can be a feeling, a smell, someone I met or something I heard/saw. That's why always have a book or my phone to write or draw what's coming in my mind. Even while I sleep I can wake up because my brain is still working !