If you've just arrived in Cardiff for uni, or if you're a seasoned Cardiffian, there's a bunch of hidden gems around that we think you should know about. We've compiled a list of some of our favourite places in the Welsh capital, that particularly align with HATW's values and help you do the coping techniques that we share!
Heads Above The Waves
Our journey begins (of course 💁🏼‍♀️) in the HATW shop!
Gooooood morning Cardiff! We're here in The Castle Emporium til 5 with merch on the rails, Simpson's Hit & Run on the PlayStation and our pal Luke on the desk. Come see all of 'em!

Posted by Heads Above The Waves on Saturday, 14 September 2019
We're here as a place you can come and chill, have a chat with us, play some video games, read some books, and pick up some cool new threads. It's designed to be a space where we obviously hope to raise as much cash for our work as possible, but also to be somewhere you can come if you're feeling a little overwhelmed in town.
Our shop's actually in a lil indie shopping mall called The Castle Emporium, so you can support local small businesses whenever you want a speciality coffee (or a BANGIN' hot chocolate), art supplies, a haircut, some skate gear, or you're getting your nails done. WE GOT U COVERED.
Lush
Arguably the best smelling store in town, Lush is a must for cruelty free, ethical and just downright, well.. Lush products. We've teamed up with the Cardiff store a couple times before for some events and they've always been the best people and the best time. Having a warm bath is one of our coping techniques that we share. Self-care is about more than just a pretty bath bomb, but there's so much care and thought in every ingredient that means the products are legit good for your body and mind. Def stop by if you wanna treat yo'self. (Plus there's an actual spa upstairs too, so if you're feeling like a lil pamper, this is the place for you).
Keep The Faith Social Club
Moving to uni can be a chance to somewhat re-invent yourself. Whether you're after just a fresh haircut, or a more permanent new look in the form of a tattoo, Keep The Faith have got you covered if you want to change your appearance. Some tattoo & barber shops can be a little intimidating at time, but KTF have always done a good job at being inclusive while still being super cool. The tattoo artists here have tattooed over a few friends self-harm scars in the past, and have handled in a kind & sensitive manner. Plus, there's a pool table to play while you wait. Top stuff!
Spit & Sawdust
If you're looking for someplace a little different and away from the city centre, you'll want to head to Spit & Sawdust. A skatepark first and foremost, but they've also got a cafe with the tastiest food made from the freshest ingredients. As someone who's not very good at skating, but enjoys using skateboarding as a coping technique I've always found the staff and the vibe in there super welcoming and there's no expectation that you've gotta be able to pull off a backflip to be part of the family there. Spit & Sawdust also hosts our friends at Prom Queen Social Club – an all female, all abilities skate night.
Blanche
Vegans! Fans of donuts! Folks looking for a tidy spot to enjoy a warm drink! Rejoice! Blanche is a vegan cafe in the heart of Cardiff's Roath area, that make the B E S T donuts, cakes and brunches. Very recently re-opened after some renovations, bringing a new look and fresh menu (and looking beautiful!), you'll almost certainly see this place pop up on a few people's Instagrams. Perfect for a lil treat to yourself, and run by some good friends of ours with a great ethos.
Ripple
Ripple is a zero waste store that's gonna make going for things like pasta, porridge & spices both affordable and a lil different. You take along your own containers and fill 'em up! Class. PLUS everyone's lovely in there AND there's a bunch of other products for helping live that sustainable life that are gonna last long beyond just student years at uni. Everybody wins!
Team Up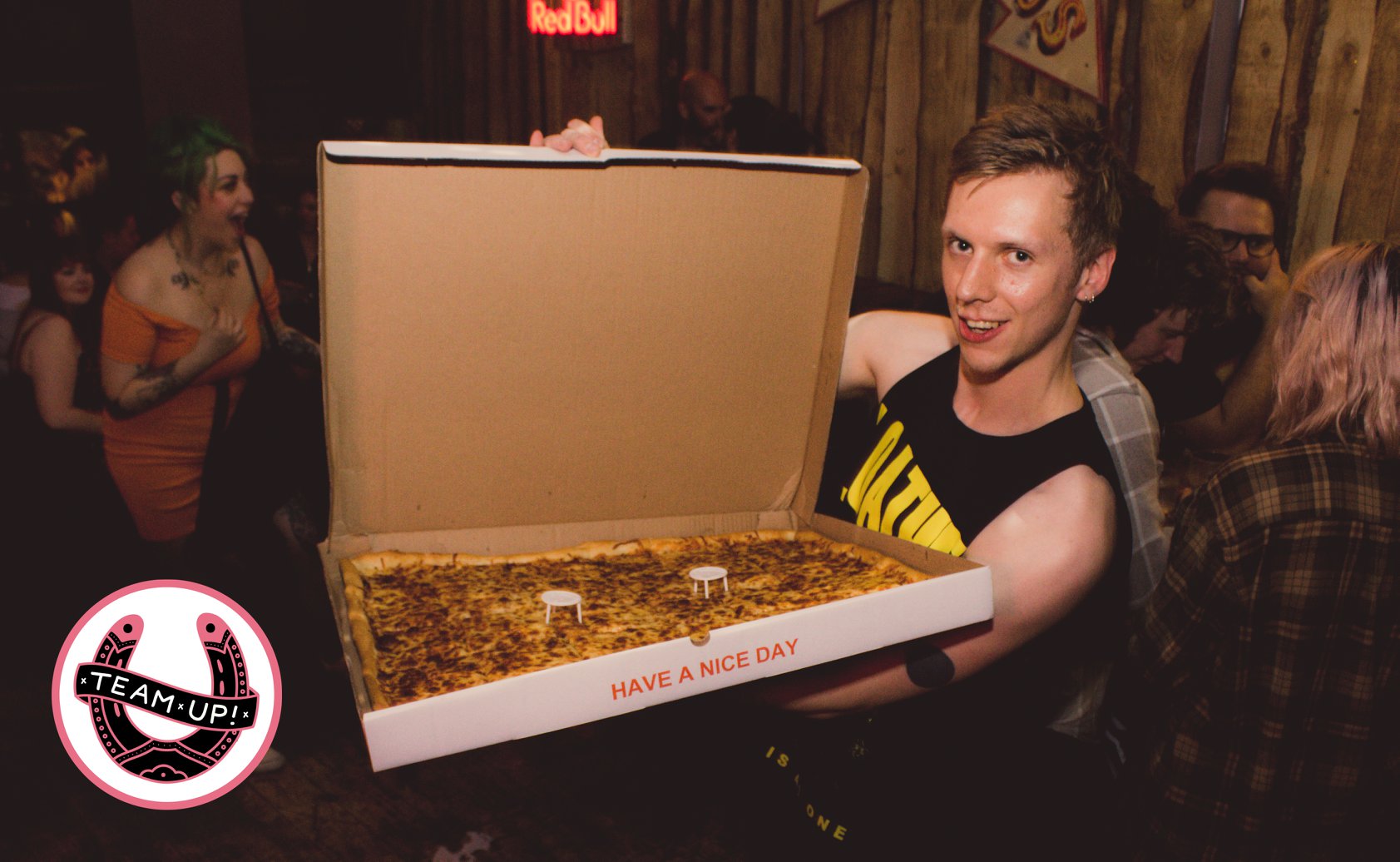 I remember moving to Cardiff for uni and going along to a bunch of clubs that I really didn't enjoy, but felt kinda like I had to go with the crowd. But then the first time I went to an alternative night, I realised there's other options out there and you can, in the words of Fleetwood Mac, go your own way. Team Up is run by Hannah (one of our directors!) and is built around the idea of inclusivity and community. PLUS you'll hear a bunch of the music that we always talk about with HATW too. If you wanna let your hair down and have a lil boogie, you'll be welcome in Team Up (drink responsibly and stay hydrated!).
Chapter
A short walk from the middle of the city, you'll find Chapter Arts Centre – a home for all things creative in Cardiff. There's always something going on here, whether that's art exhibitions, yoga classes, independent films, or a whole host of other things you'll have to check their listings for. Chapter's a true community space – plus there's a huge cafe there to sit with your laptop and get some work done, or just people watch.
The Arcade Vaults
Playing video games is a great coping technique for me – a chance to lose yourself in another world, do some problem solving, or just switch off and distract your hands and brain for a while. That's why is so cool that The Arcade Vaults are slap bang in the middle of Cardiff. It's a cosy lil space where you can come in to chill and play a bunch of video games, but is also a co-working space for people working in video games, and creating a community around gaming!